An exciting purpose-driven startup – Minbildinbil.dk
Categories: Bright Spots
I'm going to let you in on a little secret.
I recently met up with the founders of Minbildinbil, Stefano Zorzi and Valerio Sandri, two Italian entrepreneurs in their 30's living in Copenhagen, Denmark.
They wanted to talk about a cool start-up they were about to launch called Minbildinbil (Danish for my-car-your-car and a new cool twist on the ancient Italian expression "mi casa su casa"), which, in short, is the Airbnb for cars. The principle is to share what you own.
Now, Copenhagen is the city of cyclists and less than 30% of its residents own a car and many of those cars sit parked most of the time, taking up valuable street space, while depreciating in value and costing their owners money.
Stefano and Valerio's thinking was this. What if we could reduce the overall number of cars in Copenhagen, but make more use of the remaining ones? About 30% of a car's CO2 emission – from cradle to grave – comes from its initial manufacture, so it's not only bad economics, it's also environmentally costly to acquire a car and just leave it parked 95% of the time.
This week I decided to try it out. While I do pride myself in riding my bike everywhere (and frequently bringing it on the train), there is the odd time when time and place of a meeting calls for a car. I went to minbildinbil.dk and quickly found a small car in my neighbourhood. Just like on Airbnb I shot off a request to the host. My required rental period was the next morning, so my first attempt was unsuccessful – the car had already been hired out, but very soon I had a willing owner of a red Fiat Punto just around the corner. I uploaded my driver's license and once the rental had been confirmed, I paid by credit card. The next morning I showed up and after a quick check around the car, I was handed the keys and off I went. The price was 351 DKK (less than €50) for 24 hours and half of that if I returned the car before 2pm.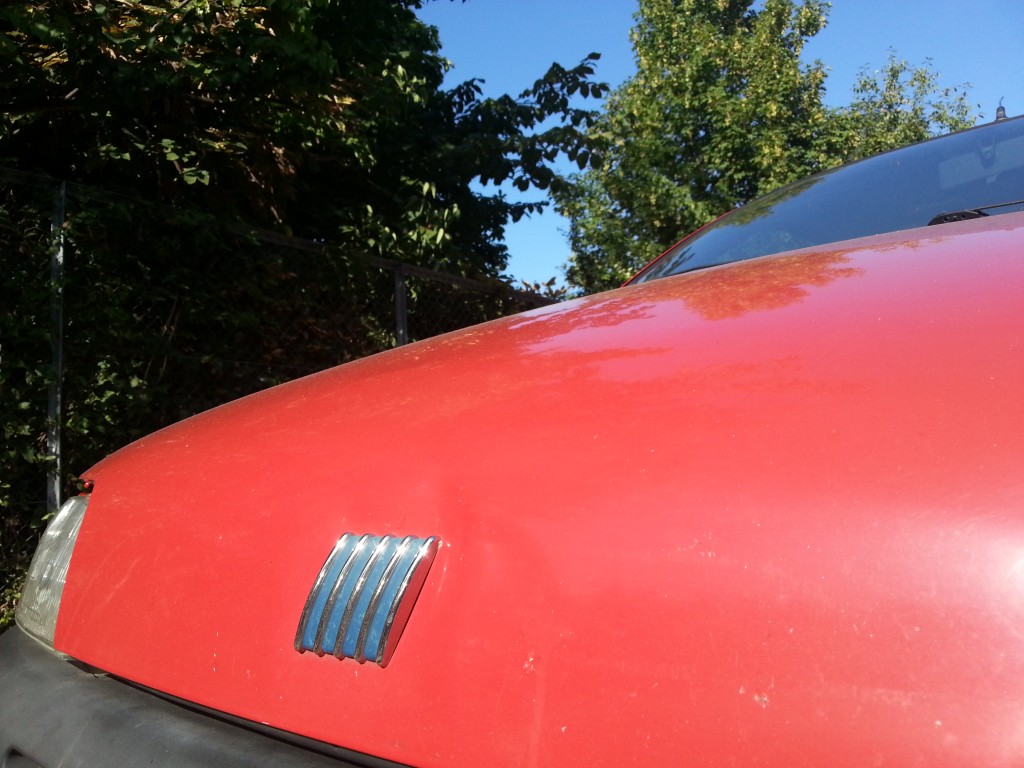 Stefano had told me that one of their early start-up challenges had been the insurance. If you rent out your car to someone else, including a good friend, your own insurance will need to cover any damaged incurred, so they knew they would have to come up with a solution that would instill trust between owner and customer. About a month ago they finally cracked the nut and signed an agreement with an insurance company, which means that each rental is covered by a separate Minbildinbil insurance.
What I really like about this startup is that it's simple and it solves a real problem for society and for its citizens. No fancy business models. Just a strong sense of purpose. In fact it reminds me of something Claus Meyer, food entrepreneur and Noma co-founder, said in his TEDxTalk in 2012:
"…before pursuing a new idea I always made sure that there was something imperfect to repair or improve on. In brief, a greater cause. So for 25 years I have tried to invest myself in projects that were not only beneficial for myself in the short run, but some that somehow could also promote my community, my industry, my country and, why not, in the larger picture, I like to believe that, it motivates me, makes the world a little bit better place in which to live".
It's still early days, but already some 30 car owners have signed up and clearly I'm not the only customer so far. Go try it out!